Bio-box @ Nime14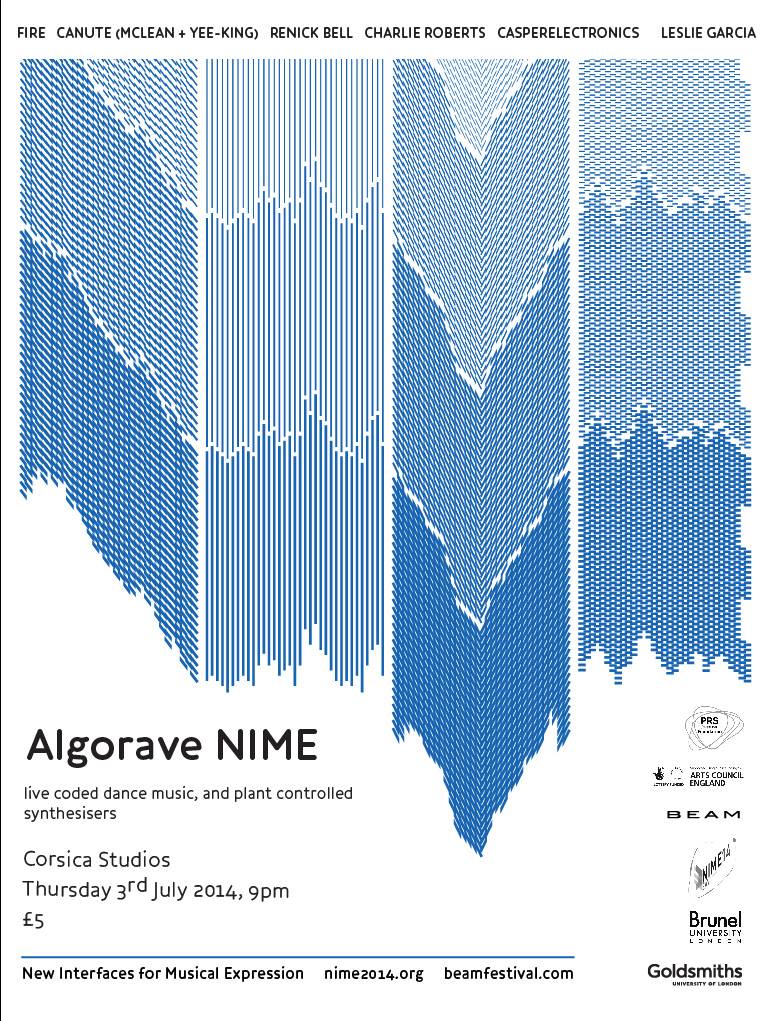 http://algoravenime.eventbrite.com/
This year the international conference for New Interfaces for Musical Expression (NIME) is coming to London, and working with BEAM festival to present a series of gigs showcasing people working to extend and expand our ideas about the performance of electronic music.

LIVE:
CANUTE (YEEKING+YAXU)
https://www.youtube.com/watch?v=-YUWo6zb5zA
https://www.youtube.com/watch?v=FenTeBMkAsQ
LESLIE GARCIA
http://lessnullvoid.cc/pulsum/
CASPERELECTRONICS
http://casperelectronics.com/
RENICK BELL
https://soundcloud.com/renick/live-at-the-linux-audio-conference-2014-karlsruhe-germany-may-5th-2014
CHARLIE ROBERTS
http://vimeo.com/80745664
FIRE
http://xylemrecords.bandcamp.com/album/triangle
DJs: Graham Dunning (Fractal Meat – NTS) and Tom Richards (We Can Elude Control)
The Algorave 'movement' has been gathering pace over the past few years, and has emerged as a novel and compelling way to present live laptop music. For the closing party of NIME2014, we present a range of algorave live coders and instrument builders working with varied interfaces, from iPads to plants and petri dishes. This event is in one of London's finest club spaces, which boasts a glorious Funktion One soundsystem which feels like a bass rollercoaster.
This event has been generously supported by Arts Council England and the Performing Rights Society.